ExerciseLog gives the user the ability to report his or her exercise data in different ways. There are text reports for each of the exercise types, and there is a graphic report for reporting running or cycling data.
The text report allows the user to see all of the entered exercises. The Running Report is used as the example here. In the text report, the user can select to report on just the data that he or she wants to see. There is an option for a report in the Full or Summary format (Full format is shown below), and the user can set the criteria for the report to only see data for a date range, or any other number of exercise specific criteria. If the user generally wants to see a specific report when the report is first displayed, a criteria can be made default by selecting the Make Criteria Default button. This makes whatever criteria is currently in the Criteria text box the default. Double clicking on a record in the full report will bring up a form that will allow the user to update or delete the selected record. Double clicking on a record in the summary format will change the report to a full report for the selected month.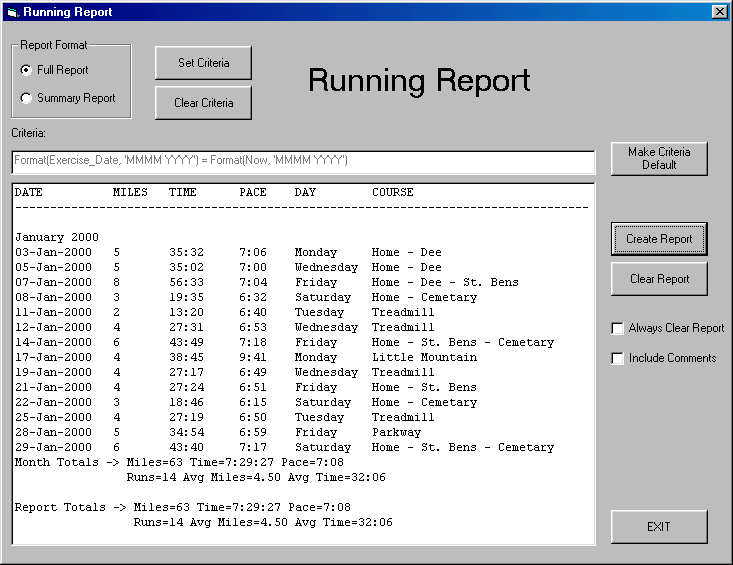 Criteria Screen for Running Report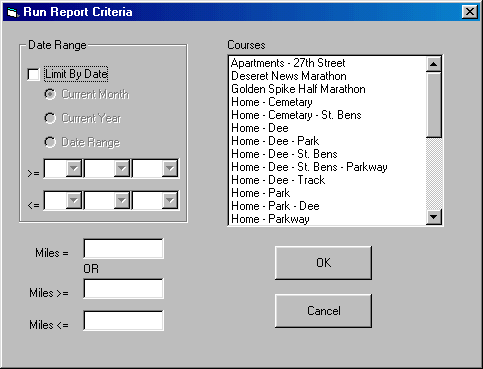 The Graphic Report gives the user the ability to graphically track his or her progress in running or cycling. There are different criteria that allows the user to find just the data to report. The graph below shows miles run for all months tracked in the log. Selecting Avg Run/Pace allows the user to track the average run and pace for the same reporting period.