(3.1 MB)
ExerciseLog is a multi-user, multi-sport training log that enables a user to track any number of different workouts. It has Running, Cycling, Swimming, and Video (aerobic, TaeBo, etc.) already built in, and it allows the user to define any number of different workouts to log and report. It has an easy-to-use calendar interface, and graphing, text, and calendar reports. What you see below is the main screen for ExerciseLog. Please go through the other screens in this site to determine if ExerciseLog could be useful for you. If it is, you can download and use the program for free.
If this doesn't meet your needs, checkout ExerciseLog2 ($20 USD for a newer Exercise Log with more features).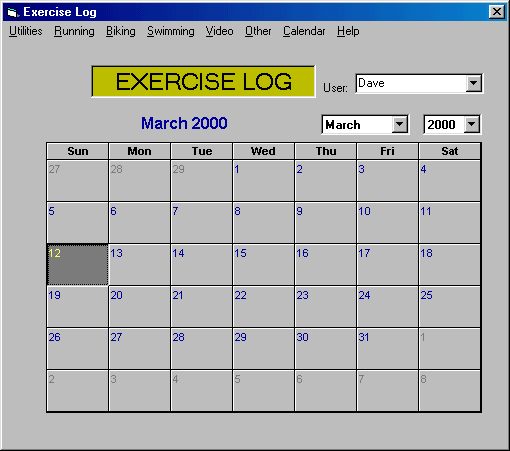 ExerciseLog is multi-user capable. When using ExerciseLog for the first time, a user name should be entered, so the exercise data will be stored correctly. To enter a user, select Add User from the Utilities menu, and add the user name. If multiple users are using ExerciseLog, select the user name of the person currently using the software from the main screen.
ExerciseLog also allows the user to enter and report data in either miles or kilometers. The default is miles. To change to kilometers, simply select Distance is Miles from the Utilities menu, and the current user's data will be displayed in kilometers.
To insert data into your ExerciseLog, simply click once on any date on the calendar in the initial screen, and a menu form will be displayed allowing you to select from the different exercise types. After selecting the exercise type to enter data for, a screen specific to that exercise will be shown and the fields can then be filled in with the data and added to the database.